Welcome to my Website
I'm a former elementary school counselor turned full-time author, as well an avid reader (middle-grade novels are a favorite), animal lover (woodland creatures, if you want to get specific), rock collector, consumer of all things chocolate, and mother of three grown book-loving boys. I have two "office assistants" who don't type or answer the phone, but who do keep me company in exchange for biscuits and long walks.
I'm lucky to have a job I can do anywhere there's Internet service and a post office, so I have two places I call "home" — O'Fallon, MO, and Northport, MI. I travel often for author visits, conferences, and writing workshops, sometimes in my pajamas. But only if I'm doing an author visit on Skype!
Say "Howdy!" to COWBOY CAR, my newest book from Two Lions, about a little car with a big dream: He wants to be a cowboy!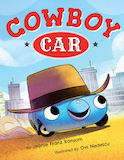 For reviews, book news, and occasional photos of my office assistants, Nemo and Sadie, visit my Facebook Author Page: www.Facebook.JeanieRansomAuthor.com
If you have a question, comment, or just want to say "hello," please use the contact link at the top of the page.
Happy Trails!
---