Welcome to the Website of Children's Author Jeanie Franz Ransom
Thanks for stopping by. I'm an award-winning picture book author, former elementary school counselor, dog lover, chocolate consumer, and avid reader. I love puns, and I'm not afraid to use them. Exhibit A: What Really Happened to Humpty? Exhibit B: The Crown Affair.
My next book, Big Red and the Little Bitty Wolf: A Story About Bullying, doesn't have puns, but it does have a surprising solution for dealing with bullying. Look for it February 15th, 2016.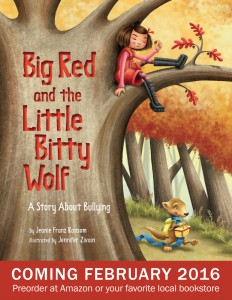 I live in St. Louis, Missouri, but spend time whenever I can in Northport, Michigan. If you want to know more about me, my books, and my author visits, I invite you to spend a few minutes looking around my website.
Have a question or comment? You can contact me using the link at the top of the page.
To find out when I have new books coming out, what I'm working on, and where I'll be next, please visit Facebook.com/JeanieRansomAuthor.
I'm represented by Lori Kilkelly at Rodeen Literary Management,
---