About Me
I've always loved to write, but aside from taking a journalism class in high school, and working on the school newspaper and yearbook, I didn't take any writing classes in college. In fact, I graduated with a liberal-arts degree in American Studies from Cornell College in Mt. Vernon, Iowa. I'm a firm believer that a liberal-arts background is a good foundation for a writer. If you want to write, you'll do it, whether you major in journalism, PE, or biology.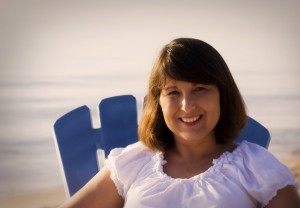 I started writing for publication (i.e. money) when I sold my first story to Seventeen magazine at age 17. Since then, I've continued to write for magazines and newspapers, worked as a radio station copywriter, a public relations writer, an editor and writer at a bed-and-breakfast travel magazine, and as a writer at several different advertising agencies. Along the way, I also picked up a master's degree in counseling and worked part-time for five years as an elementary school counselor, which was a perfect job for a children's writer. Not only did I get to be around kids the same age as my "target audience," I learned how to keep children interested and under control — two important skills for doing school visits.
When I had children of my own, I decided to try writing children's books. I say "try," because picture books look deceptively easy to write — and amazingly hard to get published.
After almost ten years of collecting enough rejection letters to wallpaper all three of my kids' rooms (well, maybe only two rooms!), I made up my mind to get serious about the whole business of selling a book. I joined the Society of Children's Book Writers and Illustrators (SCBWI), attended conferences, workshops, and critique groups, visited book stores to see the latest picture books, bought a copy of "Children's Writers and Illustrators Market," and started sending manuscripts to publishers — consistently.
It took about eighteen months to sell my first picture book. Surprisingly enough, I sold a second book within three months. Although the third book took a bit longer to find a "home," I now have five published picture books, one "on the way," and three publishers. I also recently acquired an agent (Lori Kilkelly with Rodeen Literary Management), so I'm  looking forward to selling even more books.
As my children get older (they're now 17, 22, and 25), the length of my manuscripts seems to be growing, too. To me, that signals a need to stretch myself as a writer. Though I have no plans to stop writing picture books, I'm now writing a middle-grade novel. I'll let you know how that goes. I'd love to hear from you, too. Just click on the "Contact" button above. Thanks again for stopping by!